May 12, 2021 | Business Strategy
by José A. Miranda, Lillian Symonds
The increasing penetration of cryptocurrencies in emerging markets is a high risk factor in the short term.
The consolidation of cryptocurrencies is one of the mast disruptive changes that are already part of the transformation of the global economy.

Cryptocurrencies began to be in the market for over 10 years; and, as other technological advances, only "a minority" knew of their existence and of the impact they were going to have on society.
However, the momentum over the past 18 months has led to an estimated overall market value of around $1 billion in 2020, by expecting 30% CAGR growth over the next 6 years.
Already in 2020, the penetration of cryptocurrencies began to have a significant penetration at a global level, especially in countries on which financial and economic uncertainty and instability is high, and where legal insecurity poses a great risk for individuals and companies.

According to Statista's 2020 Global Consumer Survey, people in the African, Asian and LatAm regions lead in the use of cryptocurrencies as a financial product at a global level, reaching over 14% penetration in Nigeria and South Africa; Vietnam, the Philippines or Thailand; Peru, Colombia or Argentina; or Turkey.
This stands in contrast to more developed markets such as the United States, the United Kingdom, Germany, France or Japan, where penetration is under 6.2%.
Furthermore, blockchain technology has led to the existence of more than 1,000 cryptocurrencies globally, although only around 20 of them have a regular activity, in which Bitcoin and Ethereum are the ones that concentrate and lead the transactional activity.
And, as with all financial products traded on the markets, supply and demand are the main factors that drive the "appetite" for these new intangibles.
If there is something we perceive every day, it is that part of that demand is triggered by news, statements or opinions about cryptocurrencies that appear in the media from influential personalities such as Bill Gates, Elon Musk or Mark Cuban, among many others, generating large movements that have impact the price of a cryptocurrency.
But, which other factors influence the demand for a cryptocurrency?
The impact of the news of influential personalities from the business world – especially financial and technological – generates an incremental demand on Bitcoin Searches, which in turn generates a great dynamism on the Bitcoin Price.
By narrowing down the response to a single cryptocurrency, the Bitcoin, by taking the Brand Searches in six countries (USA, China, UK, France, Germany and Japan) as input drivers, and by classifying the news of different personalities during the last 12 months, time series are constructed that allow identifying behavioral patterns that contribute to the demand.
From this, it follows that Bitcoin Searches have a greater contribution on the Bitcoin Price in Japan or UK than in China or USA, the countries with the highest technological development.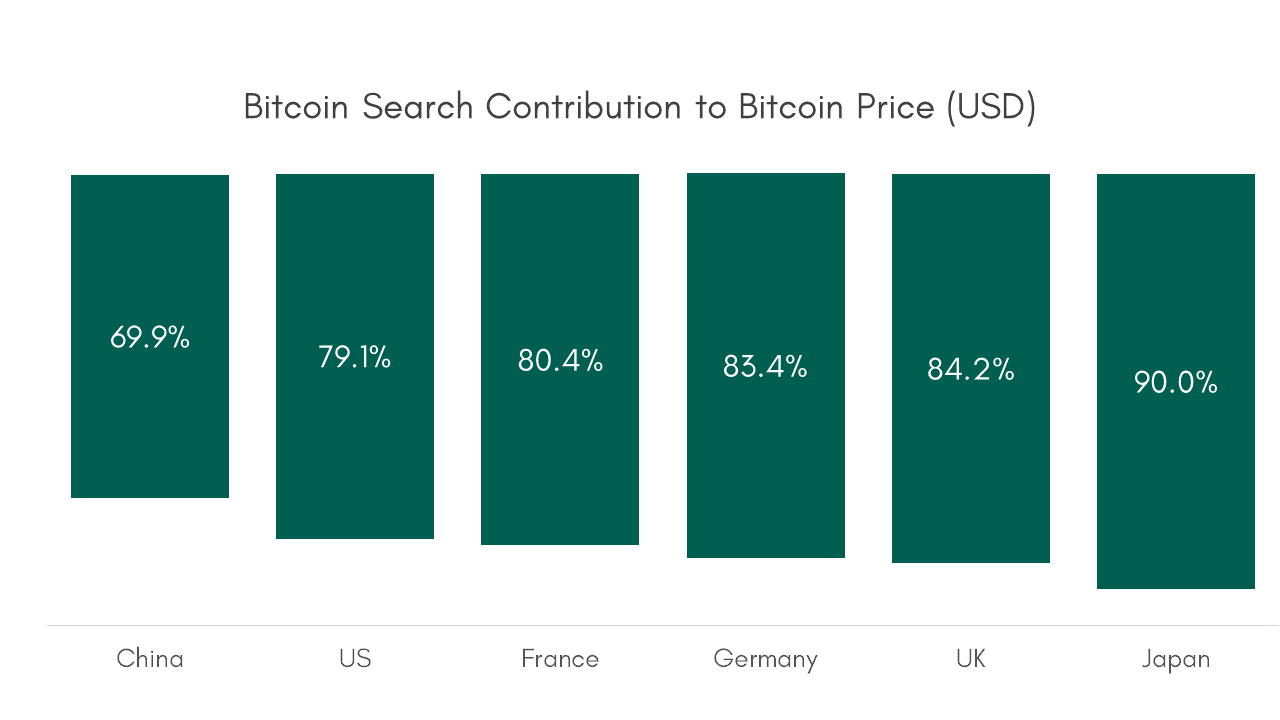 Fuente: coindesk.com, Google Trends, Statista
Therefore, in these markets, News from influential personalities in the business world, in addition to other financial factors, have a greater impact than in European countries or Japan.
Another important factor to take into account is that Bitcoin Searches advance the Bitcoin Price by one week; in other words, although there are immediate effects due to some specific news, people usually take between three and seven days to react, either in buying or selling Bitcoin.
In addition, the contribution of Bitcoin Searches on its Price has an opposite correlation with the penetration of cryptocurrencies into the markets.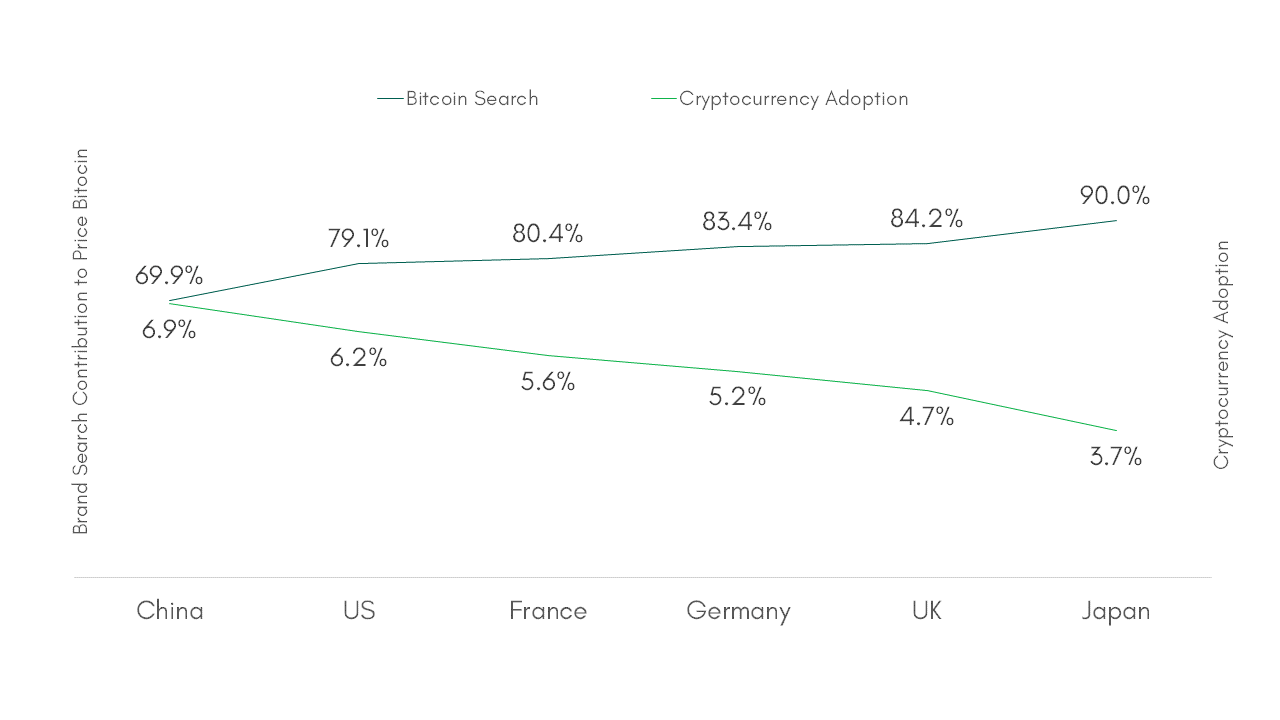 Fuente: coindesk.com, Google Trends, Statista
In other words, the more people use cryptocurrencies in a market, the greater the impact of the News of influential personalities from the business environment and other financial factors on its price; it is something logical from a financial and technological development side in the most advanced markets at a global level.
Therefore, it is important to highlight that the high volatility of the price of cryptocurrencies is due to different factors that cause a sharp demand in a short time; but it is also important to highlight that private interests, which have a greater control over financial products in developed markets may cause such volatility.
And due to the greater penetration of cryptocurrencies in emerging or less developed markets, which have a lower financial culture and less technological deployment, there is a higher risk that a sharp fall in the price of cryptocurrencies could cause a potential financial crisis in these countries, which are undoubtedly much more vulnerable.
Technology opens up new opportunities and allows people and companies to advance in different markets, with different levels of development, in a similar way.
However, it must not be forgotten that the players participate, and that the game is controlled by the ones who carry out the development and set the rules. And they always win.
José A. Miranda is Managing Partner at Naawa, Lillian Symonds is Business Solutions Partner at Naawa.
Copyright © 2021 Naawa Consulting. All rights reserved.
Download the full article in PDF here:
[ninja_form id="30″]