September 15, 2020 | Business Transformation
by José A. Miranda, Paulina Céspedes
When people internalize and adopt change in their daily lives, transformation is a fact.
People often perceive transformation as a threat to their status quo, which can lead to an initial rejection of any change induced by management teams.
There are different ways of facing life, as many as there are people; and simplifying such a complex subject must be done with great care and tact. The same thing happens in organizations, because everyone's problems are different – they depend on many factors such as the stage of life, the social class of the family in which the person was born, the education and training received, the country, region or the environment in which each person has developed.
All these factors, and many more that make up people's lives and their development, gradually weave an increasingly complex web as individuals get together in group work environments, be it in school or university classrooms, organizations or companies.
And within this mix of cultures and behaviors, there are some people who are more prone to change, and there are others who feel that this change and uncertainty represents a huge mental effort that can turn into a kind of resistance which can have negative consequences, that could threaten their daily life, unleashing great doses of stress and eroding their confidence.
However, it is a fact that in the present moment, in which companies face the challenge of digitalization and technological transformation, people play a key role in the development process and in the sustainability of organizations.
Therefore, it is essential that directive teams involve and engage people in the decision-making process that change entails.
In processes of transformation, leadership of the executive team is a fundamental factor for the rest of the organization to adopt change in a natural way, thereby becoming part of the organizational culture.
And even when promoting and encouraging worker participation, listening to and considering their ideas, and even being part of decision-making processes, many people will not be receptive and will not want to be part of the required transformation process.
The transformation processes affect the entire organization, because they expose employees from all areas: from top management to the most operational ones. Obviously, new profiles will be promoted to new responsibilities, and people who have led the company until the moments before the change will be left behind.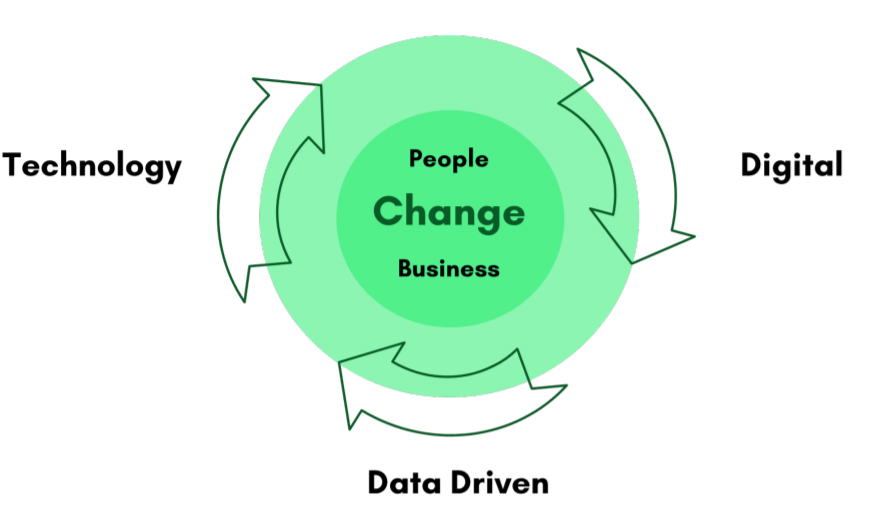 A priori, the expected results of a transformation are usually better than the real ones because we take for granted that people will react positively, in a shorter period than what was initially foreseen.
No doubt, the success of managing any change depends mainly on the top. management.
To elaborate a strategic plan with clear objectives, people in charge, processes and specific tasks and with well defined time frames is the basis of the transformation process the company is facing.
And empowerment must be given to those people who can inspire trust and credibility within the organization, and to those who have the necessary leadership skills to make the best decisions.
Moreover, it is necessary that the sense of speed and urgency be perceived in the organization as an ingredient of the change process.
However, we must be aware that not every single company is prepared to effectively manage the change process. Those c companies that do not have a restless managers, those who punish mistakes, with no risk tolerance, and who usually have a vertical managing structure, have very limited possibilities to generate the necessary change for the company to be competitive in the . current landscape.
Nowadays, many organizations are already afraid about their short-term future as they sense that they are not able to reach the goals they have set and that they cannot continue improving their previous results; nevertheless, their leaders continue thinking the same way they did until now. And the speed of current change doesn't allow for vision-blind managers who are slow to act.
In terms of Talent Management, transformation will lead to the inclusion of new profiles not previously found within the organization; new positions and new roles that did not exist until now will be created; and multidisciplinary teams will be developed with more diversity and with fewer people that will help complement each other's shortcomings.
In addition, fewer operational tasks are being demanded, but with higher performance; more innovation and strategic thinking to drive growth is also being pursued.
And it is very likely that in the companies we find the paradox that there is an excess of professionals, but there is the need for new profiles.
Undoubtedly, we are facing a process of transformation that affects all levels of the company, with change being the transmission factor that links all the layers that make up the company.
We must be prepared to identify whether each of us is or not ready to continue making the organization sustainable in a short and medium term. And chances are, if you're a CEO or General Manager, you'll already find some signs that you're not ready to move forward in the best possible conditions.
If you have any doubts, answer the following question: Are you clear about who your successor is?
Jose A. Miranda is Managing Partner at Naawa Paulina Céspedes is Head of People & Talent Solutions at Naawa.
Copyright © 2020 Naawa Consulting. All rights reserved.
Download the full article PDF here:
[ninja_form id="6″]