Marzo 28, 2022 | Business Transformation
by Daniela Baltazar, José A. Miranda
A global pandemic forced us to take a technological leap, and now the time has come for it to mature.
For many companies, especially small and mid-sized ones, opting for technology continues to represent a leap into the unknown.

At the moment, there is still a significant amount of leaders who are reluctant to implement changes and who, out of fear and/or ignorance of what is to come, prefer to remain in their current situation. Although generally, the choice of whether or not to invest in technology is based on improving process efficiency through automation, very few leaders prioritize data management, the search for behavioral patterns, and predictive models, which would allow continuous learning and the improvement of good management practices.
In other cases, there are catalysts that force companies to commit to technology; certainly, the great driver of change has been the COVID-19 pandemic.
As a result, since 2020, there has been an unprecedented increase in remote work, the exchange of digital goods and services, and the emergence of technology startups.
Beyond retail, categories such as supermarkets, restaurants, automobiles, and real estate were part of this transformation that changed the way we purchase products, contract services, send or receive " stuff", or pay for our purchases.
Prior to the pandemic, e-commerce growth in Latin America was expected to reach 12.5% by 2020; nevertheless, actual growth increased 5 times the expected figure to 63.3%, reflecting the massive transformation of consumer and business habits in record time.
Although large companies such as Mercado Libre and Amazon retain dominance, the agile growth has allowed the emergence of players that are breaking into different categories.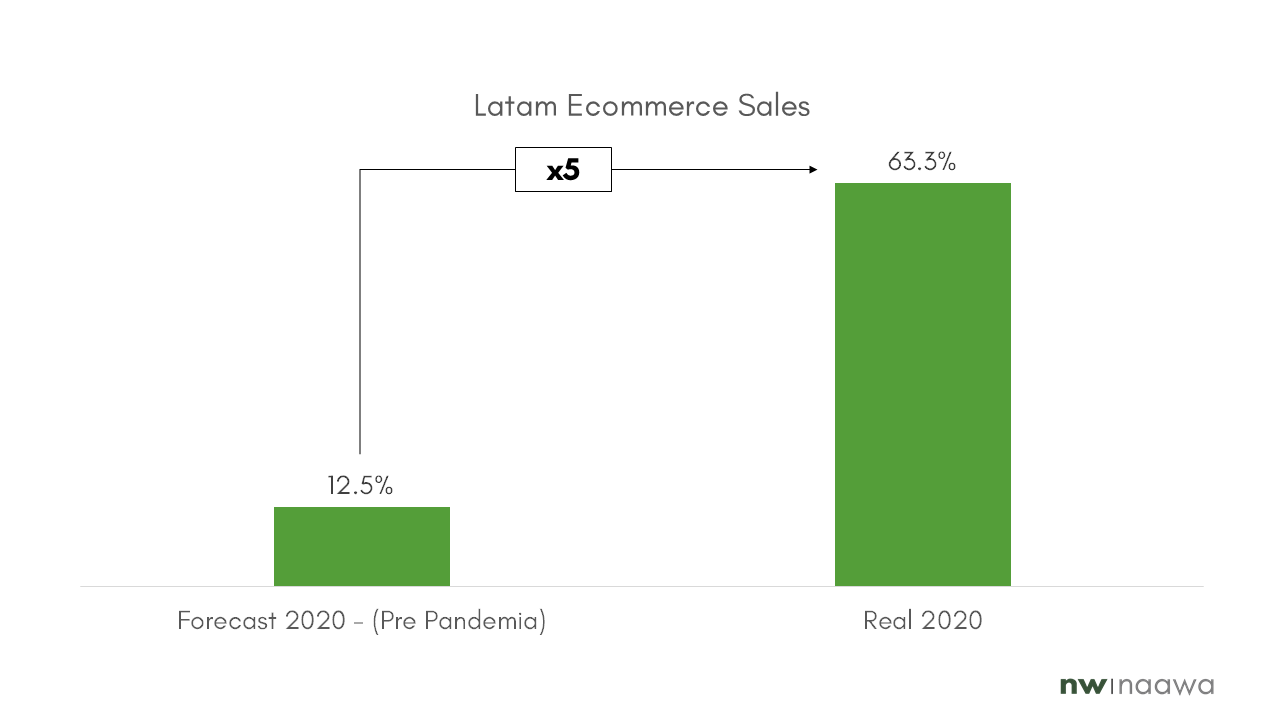 Source: Atlántico (2021). La Transformación Digital de América Latina-2021.
Just behind India and the Philippines, Mexico is one of the markets that have led global e-commerce growth over the last three years, with annual increases of up to 35%, which has meant doubling the value of the Mexican e-commerce market during this period to reach $401.3 billion pesos in 2021.
However, this momentum appears to be advancing at two different rates:
On the one hand, large companies took advantage of the pandemic to strengthen and consolidate their position in the market, and then they heavily invested in technology in the sales channels, logistics, operations, delivery, and talent, which will allow them to increase their share of online sales in the medium and long term.
On the other hand, many small and medium-sized companies embraced virtuality for the first time, which made them generate extra revenue during the pandemic, but once they are getting back to "normal", it is no longer a strategic priority.
TECHNOLOGY+ DATA + LEARNING = CHANGES THROUGHOUT THE ORGANIZATION
It should be noted that, even with this expanding virtual economy in which geographical barriers have considerably lowered, this digital apathy is evidenced by the fact that, although six out of ten companies claim to be confident in adopting new technologies, only three out of ten are aware that postponing their investment in it would make them perform worse (Harvard Business Review, 2022).
In Mexico, due to the advance of Internet penetration (74% of the total population) and the increase in the time of Internet usage of Mexicans, with an average of 8:55 hours per day, according to We Are Social Global Overview (2022), the advance of digitization is being reflected in strong growth of sales through digital channels, increased efficiency of the supply chain and internal operations, and much more agile and personalized interactions of managing customers.
Henceforth, the key enablers that will sustain this expansion are logistics, online platforms, and payment methods.
To achieve this, companies must take into account that this digital transformation involves much more than the adoption of technology, as it involves data management and the generation of continuous learning, which entails changes in the entire organizational structure.
This, without a doubt, can be intimidating for the decision-maker, which is why, for any company in any market agility, flexibility and creativity are key parts of the digitalization process.
In this process, while it is all about increasing speed and efficiency, there must also be room for learning and continuous improvement.
Whereas it is true that the road ahead will be full of changes and challenges posed by the market, every business must take this reality into account in order to achieve its long-term goals, so a technological leap does not mean taking a leap into the unknown, but into the future.
José A. Miranda is Managing Partner at Naawa, Daniela Baltazar is Consultant at Naawa.
Copyright © 2022 Naawa Consulting. All rights reserved.
Download the full article in PDF here:
[ninja_form id="34″]